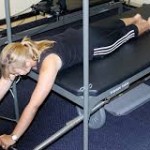 Pilates is one of the most effective exercises ever created, helping people lose weight and – more importantly – strengthen their core muscles for better overall body functioning. Clinical Pilates is very much like the exercise except that it is used for managing certain medical conditions. To get to know it more, read on.
Clinical Pilates: An Overview

Developed by Joseph Pilates in the 1920s, this exercise targets the deep muscles of the abdomen and the spine. Because those two are its main focus, it helps to improve not just central core stability but also posture. Its difference with other exercise regimen is that special apparatuses are used in facilitating physical strength. As a result, flexibility in posture, muscular endurance, balance and coordination and mental awareness are enhanced. Through Clinical Pilates, emphasis on the following body parts, inner and outer thigh, lower back, obliques and abdomen.
What makes it amazing, besides its effects in the body, is that it follows eight key principles. These are the following:
Concentration

Centering

Breathing

Isolation

Routine

Precision

Control and

Flowing Movement
Everyone who tried Pilates in the past knows exactly what it can do for and your body. You just need to look at all the before and after photos of those who religiously do Pilates. Here are just some of it:
Improves posture as well as stability

Increased coordination and control muscle

Firmer and flatter abdominal muscles (always a great plus point!)

Increased flexibility and muscular strength

Overall toned body
Physical Therapy practically works on those same principles, hence the incorporation of the exercise in Physiotherapy.
Clinical Pilates as a Rehabilitation Modality
Like other modes of physiotherapy, this specific adaptation has been very helpful for those who are suffering from general back pain, neck pain and to those who have been treated and are recovering from injury. But for a clearer picture, we have a short listing of all its benefits below:
Enhanced breathing control can one alleviate pain and keep it at bay.

Exercises can aid in rehabilitation, especially when it comes to restoring the motion and movement of the affected body part.

And because said body part is getting the strength it needs from the exercises provided, this is a great way to prevent injuries from happening again.
Patient Education: A Must Have
The great thing about Physiotherapy and all the other kinds of treatment methods under it is that it involves the patient in the whole treatment process. The very same thing applies to Clinical Pilates. A day's session with your physiotherapist will end with him giving you advice on self-management which is very important as well.
Is Clinical Pilates Right for You?
Pilates, especially the one used for Physiotherapy, is very much advantageous for those who need it. But it's not a generic tool. One kind of exercise cannot be used for all. The best way to determine if you are fit for this kind of system is to seek advice from a professional
Like other Physiotherapy sessions, it is important that the therapist diagnose the problem of the patient first before selecting the right exercise. This will ensure not just effectiveness of the procedure but optimal results. It will also minimize the possibility of aggravating the injuries sustained by the patient before.
Choose Capital Physiotherapy!
Although having massage at a spa salon can be relieving, it is still more advantageous to be treated by an expert. When a professional Clinical Pilates instructor attends to your condition, that specific health problem is targeted with the correct remediation. Some masseuse may have carried out the wrong technique and this can possibly make your condition worse. Knowledge in physiotherapy is always significant.
Some people think that Physiotherapy is merely some sort of massage and exercise therapy combined, and that anyone can work on this. But that is a huge misconception which, if you continue to believe in, will cause more problems than what you first have.

The same is even truer when you are looking for someone who can help you with Clinical Pilates. While there are similarities between the exercise and the Physiotherapy adaptation, there are still distinct differences. If you are getting this for rehabilitation, make sure that you find the specialist who can actually help you. You can trust Capital Physiotherapy.